Introducing Dryfuss and Selah
Winter has happened. We had our first storm of the winter, great way to start out December. Not really. I decided to work from home today as did a lot of the other folks I work with. This morning was mainly ice, I woke up about 3:30 am to the sound of the ice pelting the window and the ice kept going until mid-morning. A couple hours ago everything started switching over to snow but its not really sticking yet, so it is just mainly sloppy outside now. I'd almost of rather to have the nice dry cold snow. Mainly, because Selah, (GS#2), loves those cold snowy mornings. She is so funny to watch play in the snow. This stuff, no one likes, Dryfuss (GS#1), hates being wet anymore. He's 10, almost 11, he wants to potty in a nice dry warm place. Can't say I blame him. So since I've never mentioned these guys before let me tell you more about them.
They are both German Sheppards, hence the GS.
GS#1 - Dryfuss or D for short, as I said he'll be 11 in April, we've had him since he was about 18 months old and we were still living in in Troy. We were asked to house sit him while his owner went to India. Dryfuss had been living in an apartment, so when he came to our house and had his own little fenced in backyard to hang out in, he was thrilled. When the owner came back and took D home. D just wanted to be outside and the owner asked him if we wanted to keep him. I begged since the first dog I ever had was a GS named Chris. I got my way and now years later, he's starting to slow down some. Instead of playing catch with a tennis ball all day, he'll do it a few times and then lays down.
GS#2 - Selah, after we moved to Bay City and fenced in about an acre for D to play on I thought he was lonely and should get a friend. One of the ladies I work with knew someone who had a female GS that needed a home. We drove to Dewitt to meet her and I fell in love, she is just so sweet and soft. D seemed to like her too. So we adopted her. She had more issues then D as far as behavior, it was obvious she had been abused and liked to get into things. We got her a crate since she was crate trained and then we couldn't get D to stay out of it so we had to go get him one.
Here is a picture of them: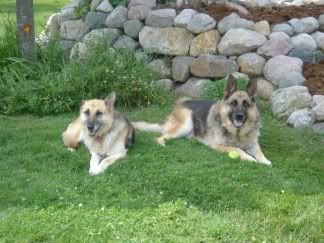 As much as they can be a pain. I do love them, just not to much all the constant shedding they do.
D almost always has a tennis ball with him, he's on right, Selah on the left.