Sweaters, Cameras and Holidays!
So I did manage to get the Sweater Sunday pictures up on myspace last night. I only put up 16 of them though I took about 140 pictures. Of course, there may only be 80-90 good ones anyway. I'm still amazed with the amount of photos I take even though I'm on my 3rd digital camera in 5 years. It's not because I've broke any of them, I just like to upgrade every couple of years. My last 2 have been Sony Cybershots which I just love. So small and fits nicely in any purse I happen to carry. I got the T9 back in the spring and am just thrilled with it. This camera is better at low light then my first one, which I believe is the T1. Both camera's take their best pictures is either bright natural light or in low-light with flash but if I compare pictures I took on the same day with both cameras I can really see the difference. Take a look:
This was taken on a cloudy afternoon in Bay City in July when the Tall Ships were coming in with the T1: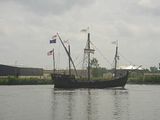 This was taken about a half hour later with the T9:
The T9 is a lot clearer then my T1, and I still use the T1 since Sony got cheap on me and doesn't include the docking station with the T9's. So I just put my memory card in my T1 and use the docking station that goes with that to do my uploads.

I love, love my camera and can't even imagine not having it. So with the Holidays heading at me this weekend I'll be sure to have some fun pictures to share along the way.

Tonight, I have our dance christmas party. Sunday is Christmas with the in-laws, then GLGA Christmas, Monday with my family, Wednesday we'll be at the Curran's. So lots of fun in the next few days and lots of good photo ops.

I will share 1 Sweater Sunday picture with you here. Dryfuss and Selah would like to wish you a very Happy Holiday Season!